Fall Edition Available Now!
Get the latest home care trends and benchmarks on agency operations, sales & marketing, technology and recruitment & retention in the Fall Edition of the 2019 Home Care Benchmarking Study.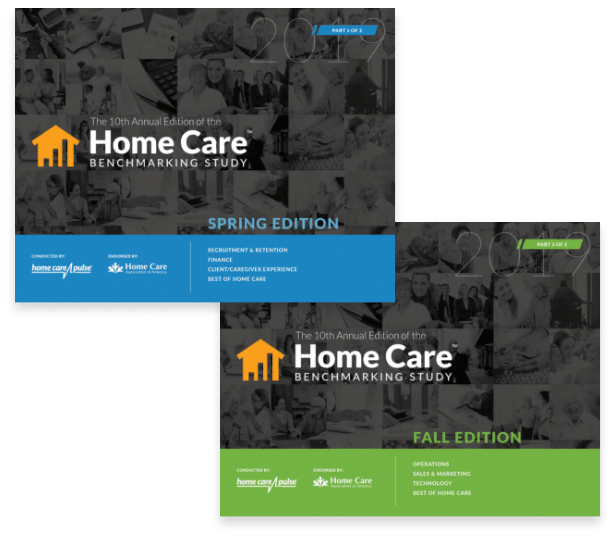 What is in the Benchmarking Study?
Industry Specific Trends
Keep up to date with trends in the home care industry; recruitment, marketing, finance, turnover, sales—it's all here.
Articles from Industry Experts
Learn from the experts. Each section of the study features exclusive articles with powerful insights and strategies.
Recruitment & Retention
Get the turnover and recruitment data you need to make informed decisions and fight the recruitment crisis.
Finance
Access industry benchmarks and see how you stack up to the competition from a finance perspective.
Client Experience
See what data from tens of thousands of client and caregiver surveys performed by Home Care Pulse say about satisfaction.
Best of Home Care Award Winners
See which agencies earned a Best of Home Care – Provider of Choice, Employer of Choice, or Leader in Excellence award.
Operations
The Operations section provides information about client turnover rates, lifetime value of clients, and more.
Sales & Marketing
Find out what strategies are working for agencies across the country, see what sets them apart, and discover where to focus your efforts.
Technology
New for 2019, see how agencies are leveraging technology to grow and solve problems as home care evolves.
What's New with the 2019 Study?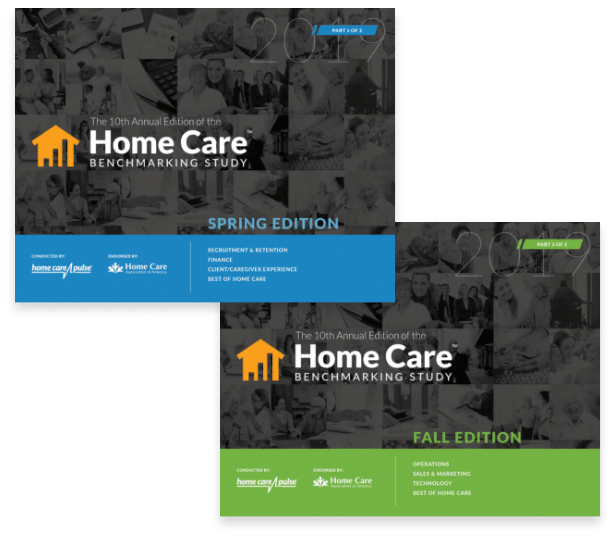 Spring and Fall Editions
For 2019, we're splitting the study into two editions. The Spring edition will be released in May and the Fall edition will arrive in September.  This change will help you get relevant data on the industry throughout the year and give you more options for purchasing the study.
Spring Edition:
Recruitment & Retention

Finance

Client/Caregiver Experience

Best of Home Care award winners
Fall Edition:
Operations

Sales & Marketing

Technology

Best of Home Care award winners
Highlights from the 2019 Study
What benchmarks are included in the study?
Overall Participation Summaries

Consumer Marketing Sources

Referral Marketing Sources

Referral Sales Representative Data

Why Consumer Choose a Home Care Provider

What Sets a Provider Apart

Growth Opportunities

Top Threats Facing Providers

Median Sales Close Ratios

Inquiry Tracking Comparison

Median Client Growth Rates
Media Client Acquisition Costs

Recruitment Sources

Top Reasons Caregiver Work for a Provider

Caregiver Training

Caregiver Turnover Rates

Caregiver Recognition

Caregiver Pay Ranges

Caregiver Wages Comparison

Office Staff Benefits
Service Offerings

Client Turnover Rates

Client Average Length of Service

Staffing Summary

Applicant Tracking Systems

Client Satisfaction Analysis

Industry Caregiver Engagement Score

Caregiver Satisfaction Analysis
Revenue Percentile Rankings

Median Revenue

Profit & Loss Comparisons

Sales & Marketing Expenses

Revenue Generated by Service Offerings

Payer Source Percentages

Weekly Billable Hours

Billing Rates
The 2019 Study by the Numbers
More than 650 participants from North America.
Download now for just $399.
comprehensive study on the industry.
written by industry experts.
Annual Home Care Benchmarking Study
Why do we publish the annual study?
At Home Care Pulse, our mission is to provide information that facilitates the success of your home care business, and ultimately helps you improve your quality of care. We provide detailed client and caregiver feedback reports through our Satisfaction Management Program and industry analysis through the annual Home Care Benchmarking Study. These resources help you manage your business more effectively and make critical decisions. As you use this data to inform your business decisions, the study will change the way you think about and the way you run your company. Whether you're new to home care or seasoned, the study will be an invaluable resource for making well-informed decisions and improving your quality of care.
Sign Up for Email Updates